Myerscough has accommodation available for all Further Education and Higher Education Students aged 16 and over. With over 500 rooms, we have a wide range of accommodation options for you to choose from.
Why live in?
Living on site has lots of benefits:
Meeting new people and making friends
No travel time
Free gym membership
A wide variety of catering outlets
Access to the college library
On site student bar
Full calendar of enrichment and social events
Dedicated social spaces
Free car parking for residential students
Free WiFi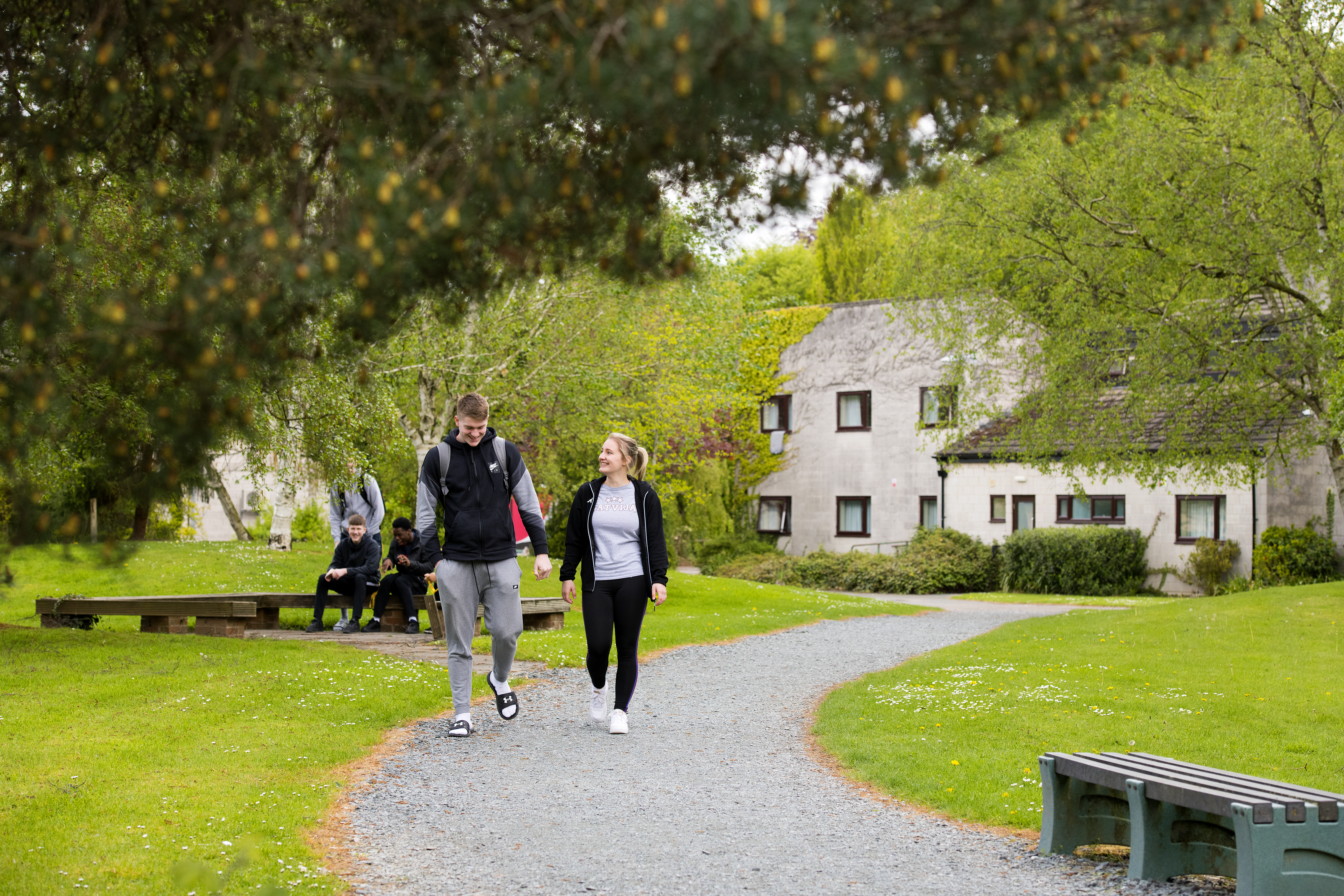 Our friendly Residential Support Officers are on duty 24/7 and are here to support students and ensure student safety, welfare and wellbeing. They are here to help you enjoy your time here as well as overseeing health and safety and behaviour in the halls.
We have adapted rooms for students with additional requirements, please e-mail reshelp@myerscough.ac.uk for further information on these. 
Accommodation views are available at open mornings and private viewings can be booked by e-mailing reshelp@myerscough.ac.uk 
View our 2022/23 prices below

Accommodation Prices for Higher Education students aged 18 and over:
| | | | |
| --- | --- | --- | --- |
| Accommodation Type | Further Education Price with 5 day catering | Further Education Price with 7 day catering | Self catering |
| Single room with a shared bathroom | £5184 | £6120 | N/A |
| En-suite room | £5976 | £6912 | N/A |
| Self-catering | N/A | N/A | £4428 |
Higher Education Vet Nursing (16 week contract)
| | | | |
| --- | --- | --- | --- |
| Accommodation Type | Price with 5 day catering | Price with 7 day catering | Self catering |
| Single room with a shared bathroom | £2304 | £2720 | N/A |
Finance
Payment schedule:
A £200 advance payment of rent will need to be made at the time of booking. This will be taken off your accommodation bill once term has started.
First payment for accommodation is due prior to the collection of your room keys. The accommodation can be paid for in full or in an instalment plan. Once rooms have been allocated, finance will send out information regarding payment methods and instalment plans.
If you wish to find out further information regarding payment methods or instalment plans, please contact the finance office on 01995 642138.
Financial Support:
Financial support is available for students who have a low household income through the Myerscough College Bursary Fund. Details can be found here for Further Education students or here for Higher Education student.
Applications for bursaries can be made on a student's My Page. The application form and details of the eligibility criteria can be found under the bursary's tab.
For further information on bursaries, please contact finance on Bursary@myerscough.ac.uk
How to apply?
Application Process
Step 1: You need to visit My Student Portal (student login). To sign in, you will need to use the Username and Password found on your offer letter or email.
Step 2: Select the Details section and complete your personal details. The application system will not let you select a room until this is completed.
Step 3: Once you have completed the Details section, you should be able to select the Room tab at the top of the page. If the tab does not display any accommodation options, please contact Residential Services on 01995 642324 or e-mail reshelp@myerscough.ac.uk, so that we can look into the issue for you.
Step 4: Once you have clicked on the room option of your choice, please complete the onscreen steps as appropriate.
Step 5: The system will ask you to print off and return an Halls Reservation Form and pay a £200 advanced rent payment.  This advance rent payment will be taken off your accommodation fee, after the start of term.
After applying
Rooms will be allocated as soon as possible after the application process has been completed. Unfortunately, we are unable to allocate rooms to students who have not returned their Halls Reservation form and/or have not paid their advance rent payment.
At times when the accommodation is in high demand, we will give priority to students who live more than 15 miles away. Please see our allocation statement for further information on our allocation criteria (link)
Once a room has been allocated for you; you will be sent an e-mail to confirm this. Further e-mails will be sent to confirm the arrangements for moving into accommodation.
Please refer to the following documents for further information on living in halls: Residential contract, Living in halls booklet, Statement of principal and practise. (Link)
Need help or assistance?
Please contact the Hall's Team: E-mail: reshelp@myerscough.ac.uk Phone: 01995 642324