Wes Johnson to take charge at Myerscough College and University Centre
Published

Wednesday 26 April
Myerscough College and University Centre is delighted to announce that Wes Johnson will become the new Chief Executive and Principal later this year.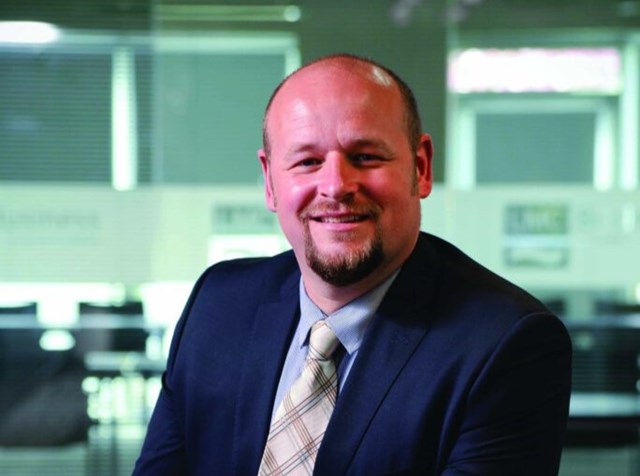 Wes, who is currently in the same role at Lancaster and Morecambe College, will take over from Alison Robinson, who is retiring in August after what will be more than five years at the helm.
Wes Johnson said: ''It is an honour and a privilege to be appointed as the next Chief Executive & Principal of Myerscough College.

 
''As a passionate advocate for colleges, the North-West and specialist land-based education the opportunity to lead the next chapter of Myerscough's success is hugely exciting.
''Playing a role in Myerscough's future not only strengthens my passion for agriculture, and land-based education, but also embraces a heartfelt family connection as my wife and two sons all hugely benefitted as former students of the College.
''I have thoroughly enjoyed my time at Lancaster & Morecambe College, a very special college at the heart of its community. I'm sure the College will continue to thrive and maximise the great opportunities ahead, especially Eden Project Morecambe, a project very close to my heart.
''As an advocate for technical and professional education I look forward to continuing in my role as Chair of The Lancashire Colleges, bringing together all twelve of Lancashire's fantastic colleges.''
Wes has more than 25 years of experience in education, with many of those as a senior leader in both general and specialist further and higher education institutions across the north of England.
Previous roles have seen Wes lead and deliver education in many settings, from serving rural populations in Cumbria, North Yorkshire and Northumberland to disadvantaged urban communities in areas of Newcastle, Middlesbrough, Leeds and Bradford.
As a former teacher trainer and curriculum specialist, Wes has a passion for high impact teaching and learning, underpinning the positive influence colleges have in raising aspiration, life chances and the economic wellbeing of individuals, businesses and wider communities.
After leaving school, Wes set up his own countryside management contracting business working in agriculture, fencing and forestry, before gaining a HND in Rural Land Management with Distinction at Brackenhurst College, near Nottingham.
He then moved into teaching, where he took up a position at North Lindsey College, and then as teaching and learning manager at Craven College in 2004, where he was promoted to Assistant Principal, then Vice Principal, and Acting Principal.
He became Campus Principal at Newton Rigg College, Penrith, in 2012, a position which was expanded to include Askham Bryan's centres in the North-East.
Wes took charge of Lancaster and Morecambe College in April 2017.
Under his leadership, Wes steered the college from an Ofsted rating of 'requires improvement' to overall 'good' within two years, where inspectors praised a 'clear vision for the College' and how they had 'reshaped many elements of the curriculum offer' to be more work-focused.
Wes also became a Director of Lancaster & District Chamber of Commerce in 2018, and is Chair of The Lancashire Colleges organisation.
Allan Foster, Chair of the Myerscough Corporation, said: "We are delighted to have recruited Wes Johnson, an outstanding college leader to build on the considerable achievements of the departing Chief Executive & Principal, Alison Robinson.
''Wes is an inspirational educator who completely shares Myerscough's mission of delivering innovative, accessible and inclusive opportunities to learners and employers in the land-based, science, engineering and sporting sectors.
''His experience as Principal at Lancaster & Morecambe College and in the land-based sector at Newton Rigg and Craven Colleges is an ideal background from which to lead Myerscough in its ambitious future. He has also made a major contribution to Lancashire-wide further and higher education as Chair of the Lancashire Colleges group.
''Welcome Wes!"
Wes will succeed Alison Robinson, who first joined Myerscough in January 2014, initially as Vice Principal, before she became Chief Executive and Principal in April 2018, overseeing a period of enormous growth, campus development and quality improvement at Myerscough, and playing a key role in ensuring the College has enhanced its position regionally, nationally and internationally.
Alison said: ''It has been a real privilege working with so many great staff and learners.
''Our mission statement of 'inspiring excellence' is embodied in everything we do, and we have a real ambition to become an outstanding college.
''It has been an honour to lead such a dedicated and passionate group of staff, with every individual, demonstrating real commitment to delivering our philosophy of making all learners the very best that they can be.
''This now presents a great opportunity for Wes, as new Chief Executive and Principal to drive the College further forward, as we strive for continued success.''
''There are further significant changes and challenges ahead, and so it is time for a new Chief Executive & Principal to steer the College, and ensure that the future remains bright for Myerscough.
''I congratulate Wes on his appointment to the role, and know that he will lead Myerscough to achieve recognition as an outstanding College, maintaining and growing its position as one of the country's leading providers of land-based, science, engineering and sports education.''