Myerscough's higher education programmes rated Silver by Teaching Excellence Framework
Published

Thursday 28 September
University Centre Myerscough has achieved a prestigious Silver award in an assessment that highlights excellence in teaching and learning across higher education providers in the UK.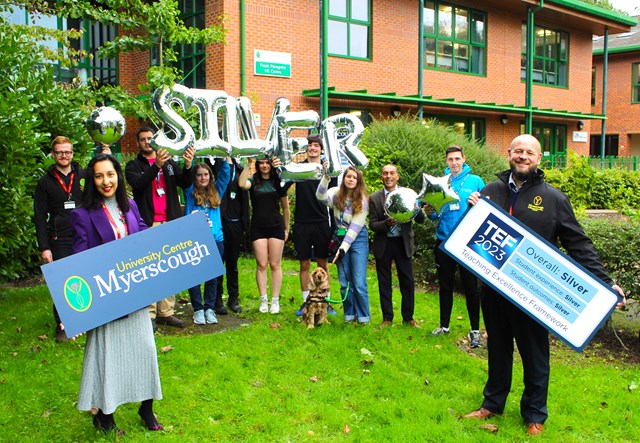 The award has been made by the Teaching Excellence Framework (TEF) in recognition of the quality of provision in Myerscough's foundation and full honours degree undergraduate study programmes. 
The TEF Panel judged that both the student experience and student outcomes at University Centre Myerscough are typically very high quality. Further, the panel agreed that Myerscough's approach to supporting students in their success and progression was outstanding.
The TEF report on University Centre Myerscough states: ''The panel found all student experience features to be very high quality for most groups of students and courses.
''The panel found student outcomes features to be very high quality for all groups of students and courses, including students from underrepresented groups, and courses.
''The panel also found there to be some outstanding quality student experience and student outcome features.''
The aim of the TEF award is to provide learners with better information about higher education institutions they may wish to study at, as well as recognising and rewarding excellent teaching which meets the needs of industry.
A rating of Silver means the institution has demonstrated very high quality teaching standards and student outcomes from all backgrounds. The rating is valid for the next four years, from September 2023.
Other areas of excellence highlighted by the report, which can be read in full on the Office for Students website, include:
Myerscough embeds effective approaches and delivers a very high-quality academic experience for its students.
Myerscough sets out a student-centred approach to teaching with extensive hands on and experiential learning aligning to subject areas.
Very high-quality teaching, feedback and assessment practices are embedded across the institution.
Myerscough deploys and tailors approaches that are highly effective in ensuring its students success in and progress beyond their studies.
Myerscough understands their students and provides appropriately tailored support to fit their needs and the courses they are undertaking.
(There is) a distinct approach to embedding research active staff and activities within teaching.
Myerscough deploys and tailors approaches that are highly effective in ensuring its students success in and progress beyond their studies.
Myerscough fosters a supportive learning environment, with access to a readily available range of very high quality academic support provided by tutors on a group and individual basis, which is further enhanced for disabled students.
Physical and virtual resources are tailored to effectively support outstanding teaching and learning.
The Teaching Excellence Framework (TEF) was introduced by the Government to build evidence about the performance of the UK's world-class higher education sector, complementing the existing Research Excellence Framework with an analysis of teaching and learning outcomes.
The TEF awards are decided by an independent panel of experts including academics, students and employer representatives. Drawing on national data, and evidence submitted by each university or college based HE provider, the TEF measures excellence in teaching quality, the learning environment and the educational and professional outcomes achieved by students.
There is a rating given for both student experiences and student outcomes, and an overall rating of either Gold, Silver, Bronze, or Requires Improvement.
Myerscough Chief Executive and Principal, Wes Johnson, said: "Our rating is a testament to the quality of our talented teaching staff and the excellent programmes we offer.
''Our students graduate not only with a qualification that is highly industry relevant, but with the skills they need to forge a successful career in their chosen field.
"We do this by working closely with industry partners, to ensure we are preparing students who are fully 'job ready', across a wide range of sectors.''
Zulakha Desai, Assistant Principal for Higher Education, said: '' Achieving a TEF silver is a team effort and we are all very proud that the experience and outcomes that we deliver has been formally and nationally recognised.
''Many congratulations to all those involved in the teaching and support areas for our degree provision".
''This is a fantastic result for Myerscough and a reflection of the level of support we offer, as well as the student experience and the quality of our teaching.''
''Learners choosing to study at University Centre Myerscough, as well as employers, can be assured that a degree programme with us is a guarantee of a very high standard of education in their chosen industry.''
Myerscough College and University Centre offers a range of degree programmes across the land-based, sport, science and engineering sectors, accredited by the University of Central Lancashire.
Myerscough is amongst the top UK institutions in the sector for student satisfaction - helped by exceptional resources and a unique countryside location. A recent survey showed 95% of Myerscough degree students' progress to further study or employment within six months.