Myerscough is awarded Quality in Careers status
Published

Monday 20 November
Myerscough College has been awarded national Quality in Careers status, after a thorough evaluation process.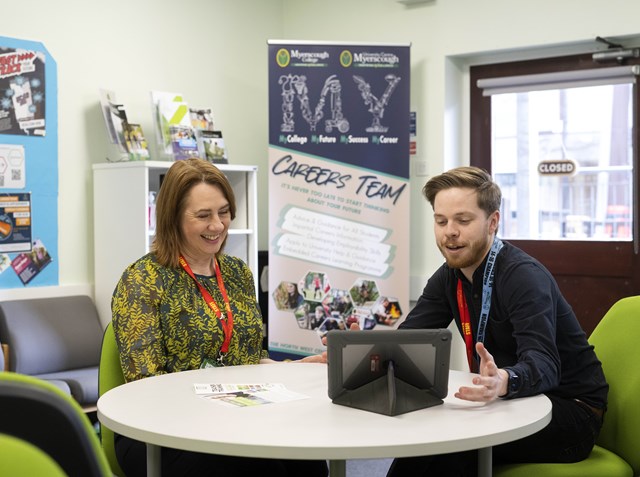 The Quality in Careers Standard is an excellent achievement and recognises the quality and breadth of careers provision on offer.
It is coordinated by Complete Careers (Career Mark), a Licensed Awarding Body for the National Quality in Careers Standard, and is designed to recognising an organisation's commitment to their students' future, as well as raising levels of motivation, attainment and aspiration.

A summary of the official report concludes:
Learners at Myerscough College are very well supported with their career planning and are given opportunities to develop their personal and employability skills, to help enable them to achieve their aspirations and full potential.
The career leader is very capable and dedicated, showing a thoughtful approach to the careers programme and has considered how it needs to evolve.
The college's careers adviser is very capable and enthusiastic and aims to make a real difference to the outcomes of learners across the college site. He is in the process of completing his L6 guidance qualification via the apprenticeship route and has been very well supported by the careers co-ordinator who is L6 qualified, on the CDI register and also undertakes personal guidance meetings with students.
The college is fully meeting the Gatsby Benchmarks and continues to reflect on their
programme to enable them to make effective plans for the future. External partnerships are extensive and this includes the DWP who provide a programme for SEND students.
Parents, guardians and carers are actively encouraged to engage with the programme.
All members of the team are clearly passionate about the provision they provide and have a common aim of supporting all their learners, going the extra mile to ensure they are available through a range of mediums and after traditional college hours, as required.
The award is valid for two years until October 2025.
John Ambrose, Career Mark Lead Director at Complete Careers, said: ''I know how much work is involved in achieving Career Mark, and it is a credit to you and your colleagues to have achieved the high standard demanded by the award.
''The assessment report provides evidence of a successful programme that is meeting the needs of your learners.
''Congratulations, and best wishes as you continue to deliver high quality careers education and guidance.''