Date confirmed for 2024 Legend Fires North West Stages
Published

Monday 27 March
The Legend Fires North West Stages – the biggest rally in the North of England - returns for 2024, and will again be based at Myerscough College.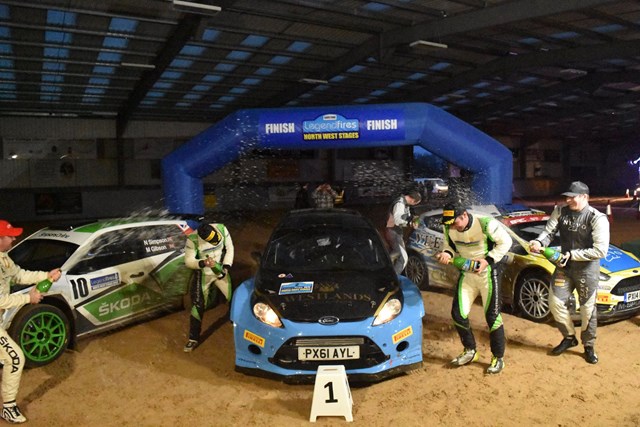 Myerscough's state-of-the-art Motorsport Centre has once again been chosen for hosting the Central Service & Scrutineering, as well as the start and finish, for the rally, on March 22nd and 23rd.
The event last ran in 2022 and comprised of 60 stage miles over 14 special stages on closed public roads across the borough of Wyre.
Myerscough is again set to have a significant presence throughout the event, with students and staff acting as marshals and other event staff, as well as a number of cars competing in the event itself. Meanwhile, the campus itself will be completely transformed with cars and pit crews working throughout the day.
The Legend Fires North West Stages was cancelled in both 2020 and 2021 due to the Coronavirus pandemic, and is being rested in 2023, with the build up and planning for next year already well underway.
A spokesperson for the North West Stages, said: ''Organisation is well underway. Building on the success of the 2022 event, 2024 will see some interesting tweaks to several stages and a completely new 6.2-mile stage.
''The rally will return to the market town of Garstang and to the exciting and demanding lanes of Lancashire.
''Myerscough College will again provide their excellent facilities for Rally Headquarters and central service area, and Garstang Town Council, who are in full support of the event, will host the popular ceremonial town centre start on Friday 22nd.
''For the seventeenth year, we are delighted to welcome back Legend Fires as the event title sponsor and we are extremely grateful to them for their steadfast support. We must also thank John Stone individually who is always on hand to provide help and encouragement to the team.
''We would also like to thank all residents, councils, landowners, local businesses and sponsors for their continued support.
''So, get the date in your diary, we can't wait to welcome you to Lancashire next March.''
The Legend Fires North West Stages rally is the largest multi-venue tarmac rally in the North of England. Myerscough College has played a significant role in the event for a number of years, including students supporting cars competing.
Occasions like this give Myerscough students crucial real life experience on event where they'll be working alongside potential employers. The students will get to experience, first hand, a major event and such experience looks great on their CV when they apply for jobs within the industry.
Myerscough also boasts a strong rally heritage having a long-established motorsport department with stage rallying a core element of their activities and a number of lecturers having strong links to the sport.
By bringing the rally to Myerscough and engaging with staff and students, that in itself provides valuable educational benefits, providing first-hand experience of the running of a major motorsport event.
For more information on the event CLICK HERE
For more information on the range of motorsport study programmes available at Myerscough College and University Centre, CLICK HERE