Agriculture student challenges industry leaders at NFU fringe event
Published

Wednesday 28 Sep 2022
A University Centre Myerscough agriculture student has challenged industry leaders at a NFU fringe event at the Labour Party Autumn Conference in Liverpool.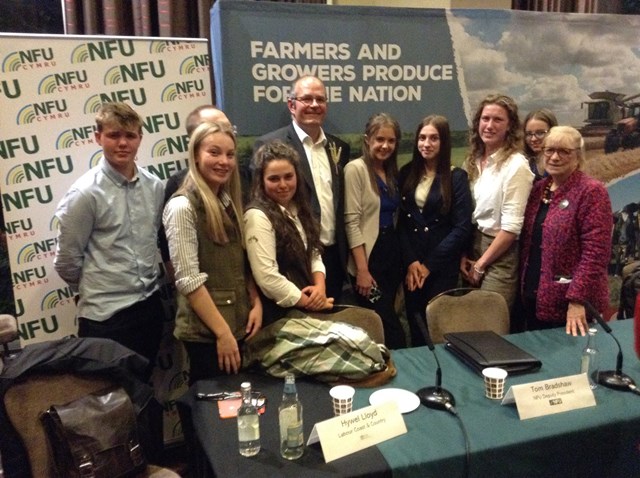 Megan Swift addressed a panel of industry experts at the NFU's fringe event at the Labour Party Autumn Conference in Liverpool, asking a challenging question to the panel regarding young people working in the industry, on long hours for low pay, and what changes are needed to address this issue.
She said:
''For the jobs for young people going into agriculture, the wages are horrendous, and the hours are even worse.
The job I was offered (while studying) at 18 was at a dairy farm. It was £8.50 an hour, 14 and a half hours a day, 12 days on, two off.
Working these hours, barely getting any holiday, is that fair on mental health? When do you get time to do other things? What sort of life is that if it's just work?''
Megan was part of a delegation of Myerscough students attending the event this week, after being kindly invited by David Hall, NFU Regional Director to see first-hand how agricultural policy is influenced and debated.
The fringe event saw a panel made up of key figures including Jim McMahon MP, Shadow DEFRA Secretary; Liz Pole, Labour Coast & Country; Tom Bradshaw, NFU Deputy President; and Chris Curtis, Head of Political Polling, Opinium. The debate was chaired by Polly Toynbee from The Guardian.
In response, Tom Bradshaw from the NFU acknowledged Meghan's question, saying: "Young people have to be the heart of the industry I'm sure in the future we will recognise expectations of working a 14-hour day wasn't the right thing going forward, fair returns are needed from the marketplace in order for wages to deliver".
Students enjoyed the political debate around current hot topics in the agricultural industry for food security and future vision for farming, a review of key challenges faced in the industry in the current climate, and a critical review of agriculture polices under the current government and the need for change going forward in order to sustain food production.
Ash Khan, HE Assistant Head of Agriculture and Countryside, said: ''Megan highlighted the fact that the issue is widespread in the industry and more needed to be done to protect the future of the farming sector. She was applauded by the audience and praised afterwards on asking such a noteworthy and relevant question that also affects farmers and pay structure for their staff.
''We would like to thank David Hall from the NFU for the invitation and also to the students for taking the opportunity to attend this event as it's important young people in the industry are heard and are able to express their views.''