FEATURE: Turf grads continue to grow through pandemic
Published

Wednesday 3 Feb 2021
Sportsturf students have been through an incredibly tough time keeping up studies through a global pandemic and what has been a great time of uncertainty.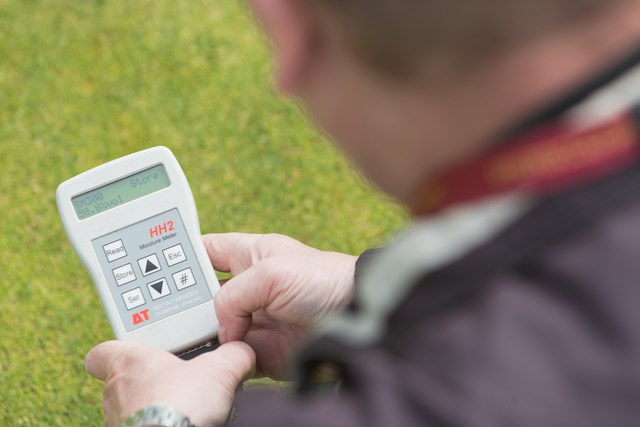 So, how have this year's graduates at Myerscough College been doing through it all?
Well, it's been business as usual as much as possible, with remote classes and online learning taking centre stage and tutors doing their utmost to support students online. So, how have students coped with the changes studying about an industry that is very much hands-on? What's not always been possible on the field has meant students have found other ways to grow and broaden skills in other ways – time management, using initiative and online research.
So, how has the course been overall and how have tutors helped through what has been a year of lockdowns? "They're great," says Robert Pinion, studying for a BSc in turf care management. "Very supportive. I'm already applying what I've learned to increase efficiency and standards."
The tutors have always been on the end of the phone or email whenever students need help, says fellow student, Steve Hardy. The online learning platform has been useful and the weekly updates help him with his scheduling. Tom Pattison, also completing a course, has found the course has equipped him with the skills required to be better in his job as a golf course manager. Fortunately, Tom already works in the industry, where he can develop and apply his skills. But the weather brought about some challenges.
"Let's just say I asked for a few extensions during the lockdown," says Tom. "A member of staff was furloughed while we were managing the grow-in of a newly built hole on the golf course. The extra work meant he had more responsibilities in addition to his studies. "The lockdown and furlough coincided with one of the driest, warmest springs recorded in the North East of England, with round the clock watering required to protect the new turf and seedlings."
Speaking about students, tutor Stewart Brown, commented: "Most students are well-motivated and committed to their course of study.
"Studying part-time whilst working and maintaining families is never easy, but most students submit very high quality work and are keen to do well."
Robert chose to study in turfcare at Myerscough after being inspired by his dad, who was a groundsman for 21 years. From his course so far, he's most enjoyed learning about the life processes of the plant and soil, which help him understand better how to look after them in the long-term. Similarly, Tom has also enjoyed learning the science behind plant processes, which means he can work to prevent issues that affect the turf in his job working for a golf course.
From his first experience and the feeling of fulfillment from improving surfaces and happier golfers, Tom Pattinson chose to study for a BSc in turf care. Steve, also completing his qualification, started out by chance volunteering at his local club for their club championships. As the office life had never appealed to him, he threw himself into the industry to gain any experience he could. Motivation to keep growing Tom has been lucky enough to receive an education scholarship from the R&A, which has motivated him, due to the faith put in him to do a good job and the fantastic opportunities he's been given.
He has found the course to be enjoyable, well-structured, though challenging at times. In the most part, the tutors have been knowledgeable and engaging. Overall, the course has equipped Tom with the skills required to be better in his job as a golf course manager. It was volunteering at a local championship that got Steve into the industry. As he'd never wanted to work in an office, he threw himself into the industry and went out to get as much experience as he could. Taking a great interest in all things technical, he's been most interested in learning about agronomy and fertiliser technologies. He's now achieved his degree with first class honours after 5 years. During the degree, Steve is thankful to have gained an R & A scholarship, joining an exclusive group of scholars worldwide. "I'd highly recommend anyone studying a higher education course to apply for the programme," he said.
During lockdown, Steve unfortunately furloughed from his job back in March. His team of 12 was reduced to 5 during the lockdown, with the remaining staff furloughed. Steve continued his studies from home, completing his dissertation, watching seminars and kept himself updated on industry news. Despite the uncertainty during lockdown, with no idea if jobs would continue, fortunately, golf games were safe enough to play after lockdown and Steve was asked to return. One thing Steve has got is determination. "Once I set a goal I can motivate myself to keep going until I achieve it; but distance learning has been tough at times and you can feel isolated", he says. "The fact I have self-funded this qualification gives me an added sense of achievement.''
In terms of his skills, a major benefit for Tom has been that he manages his time much more effectively, whilst also seeing the direct correlation between the effort you put in and the knowledge he's gained from the course. Aside from turf management, Steve has learned about time management and about learning independently, using initiative: skills that will also help him in his career. It has definitely been tough, very challenging, but rewarding nonetheless, says Steve. His role as Assistant Course Manager at The Warwickshire Golf Club has given him the opportunity to put into practice much of the technical knowledge learned throughout the course as well as boosting his confidence.
Excited about his industry, Robert plans to use his study and knowledge to move into turfcare with a local authority or even teach the subject in the future. Tom is fortunate to already have a role he enjoys, working on a golf course. While he has no plans to change direction just yet, he would like to further his studies in the future. After graduation, he plans to take a break from education for a year or two before starting an MA in Golf Course Management. Career wise, he wants to continue improving Blyth Golf Course so it can reach its full potential, whilst reaching his own.
Steve's passion is also in golf course management. He wants to use his experience and the qualification towards becoming a head greenkeeper or course manager. He feels very fortunate in his role at The Warwickshire Golf and Country Club has allowed him to help manage a vast 500-acre site with and extensive maintenance programme. Steve said: "I hope to encourage the next generation of aspiring turf managers as best I can."
The students were talking to Turf Business magazine. You can find out more here